Interior Designer / Interior Architect
Since 2006, our collective's interior designers help you succeed when redesigning, renovating or restructuring your house or apartment in Montpellier.
Why should you hire an interior architect in Montpellier?
Meet a professional designer to hear their thoughts on your home, or get a home pre-purchase advice before buying property.
Feel confident with qualified interior architects that provide all required insurances and clearances before starting any construction works.
Know the details of your interior design project beforehand so you don't hit any bumps in the road in the middle of renovation works: feasibility, budget…
Benefit from the expertise of an interior designer on the choice of materials, colors, furniture and equipment. Thanks to their advice, you will be able to optimise the potential of your interior and make the right layout and decoration decisions.
Visualise your new apartment interior design thanks to sketches, maps, 3D renderings.
Get precise and fair quotes from construction companies in Montpellier thanks to your interior architect's network: masonry, electricity, plumbing, carpentry, painting, etc.
Get you in touch with craftsmen and contractors known for their reliability, and fully insured (mandatory 10-year liability insurance and accidental insurance). For best results, your interior designer partners regularly and exclusively with these providers.
Commercial & Retail Interior Design
Interior architects can contribute in a meaningful way when redesigning commercial spaces: offices, shops, restaurants, hotels or any other commercial surface open to the public.
Working with an interior designer in Montpellier
Your interior architect is your partner to redesign your interior in Montpellier. After collecting your needs, they will work on your project from the specifications to the delivery.
Step 1: Meeting your interior designer - Project draft
During your first meeting, your designer will study your space potential directly at your home in Montpellier. Their main goal is to understand your needs and provide you with a main concept/solution on the spot.
This visit allows them to communicate ideas and first impressions directly with you. They will inform you about all essential steps to take during an interior design project.
The main technical aspects of your interior are collected (details about walls, isolation, plumbing, electricity, water and gas).
You will learn about any required administrative procedures for the proper execution of your project: co-ownership/condo agreements ("accord de copropriété"), works declaration ("déclaration préalable"), etc.
The interior designer will list all the ups and downs in your home: natural lighting, potential for space optimisation and redistribution, transversal load-bearing walls…
At the end of the visit, you will get a rough price range for the renovation works to be considered. It's not a quote, but rather a back of the napkin estimation that is meant to help you make decisions.
Thanks to their experience and expertise in interior architecture, interior designers are able to share style ideas and recommendations (materials, colors, equipment, decoration and furniture) while taking your personal preferences into account.
If you are currently looking to buy property and want to make sure your prospective home is the right one for an interior design project, the architect can perform a home pre-purchase advice to confirm the potential and flag issues.
Multiple conversations may be required. Once you have agreed on a concept, you can decide to move forward with design specifications (see Step 2). You'll receive a mission contract showing fees and project steps.
Step 2: Specifying your interior architecture project
After carefully measuring the existing space and based on your needs and house/apartment's potential, the interior architect shares different remodeling options using sketches.
Once you select a project, the interior designer will draft specifications, including information about any technical component in the project: floor plans, electrical plans, section plans, 3D views…
Your architect or interior designer will then select and suggest furniture and other decoration items as well as references for materials (tiles, wooden floors, taps…).
Once specifications are ready, you'll get the estimated cost for your project.
At this stage, you can decide to keep working with the same architect/designer for the execution step. They will then supervise the construction works on site and keep you updated.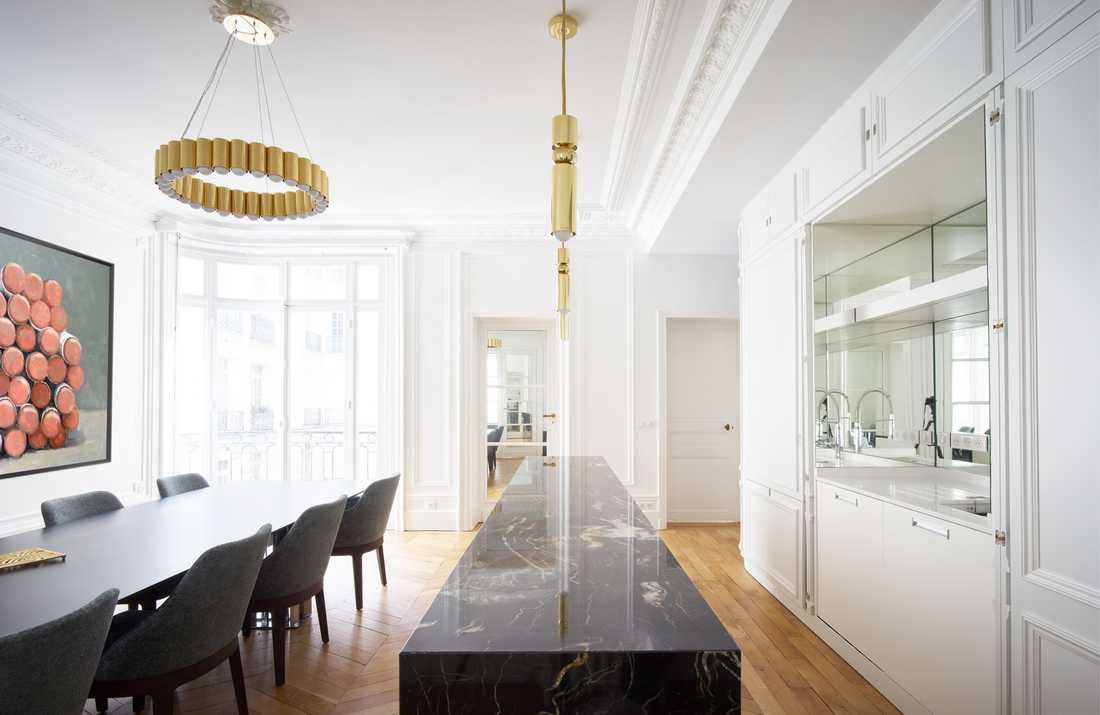 Step 3: Supervision of interior design works in Montpellier
Based on the works' description, the interior designer reaches out to partner companies (craftsmen or constructors selected for you depending on the specificity of your project). Thanks to their expertise, they are able to get the right price.
Your interior designer will supervise all stakeholders on site (construction company, kitchen designer, tiler, carpenter, plumber, mason, painter, etc) and keep you updated.
They will make sure that your project is well implemented and monitor the progress, compliance with deadlines and specifications. Meetings on site will be organised to ensure smooth progress of the works.
Regarding interior decoration, their knowledge of your project and your personal taste allows them to suggest furniture, decoration and colors to harmonize your future house or apartment in Montpellier.
Whenever possible, you will benefit from business discounts from suppliers and shops selected for your interior decoration.
After you move in or move back in, the interior designer helps setting up your furniture and decorative items.
Interior architect / Interior designer fees in Montpellier VAT ex.
Step 1 - Meeting your interior designer
 
80 € per hour
(refunded if the meeting is followed by a mission)
Step 2 - Specifying your interior architecture project (by tier)
| | |
| --- | --- |
| Surface ⩽ 40 m² | From 70€ / m² |
| Surface between 41 and 80 m² | 60 € / m² |
| Surface between 81 and 120 m² | 50 € / m² |
| Surface between 121 and 240 m² | 40 € / m² |
| Surface ⩾ 241 m² | on quotation |
Step 3 - Supervision of interior design works (by tier)
| | |
| --- | --- |
| Less than 100 000 € of the works amount | 9 % of the works amount |
| Between 100 000 € and 200 000 € | 8 % of the works amount |
| More than 200 000 € | 7 % of the works amount |
You are free to use the interior design services for as many steps as you want/need, and without any engagement.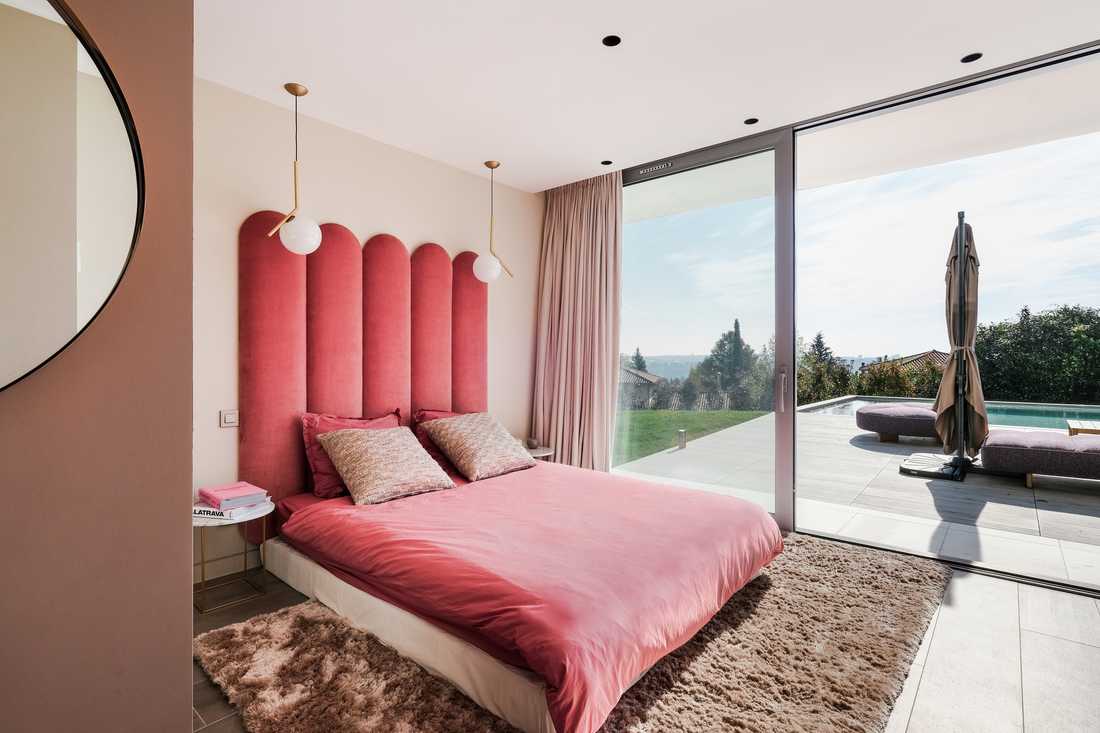 Our interior designer service is available in Montpellier and surrounding municipalities such as Saint-Clément-de-Rivière, Montferrier-sur-Lez, Clapiers, Saint-Gély-du-Fesc, Teyran, Castelnau-le-Lez, Baillargues, Saint-Jean-de-Védas, Lattes, Mauguio, Pérols, Castries, Assas, Saint-Clément-de-Rivière. Our architects and interior designers also operate in Hérault and Gard department: Lunel, Le Grau-du-Roi, La Grande-Motte, Port Camargue, Aigues-Mortes, Sète, Mèze, Agde, Clermont-l'Hérault, Lodève, Poulx, Narbonne (non-exhaustive list).